---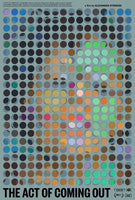 27 x 40 inch film poster.
filmmaker alexandra stergiou reached out and asked that we might make a poster for her new hybrid documentary, the act of coming out. the film has been released by the new yorker magazine and is comprised of a series of filmed auditions / interviews with queer and trans actors about what alexandra describes as "the never ending process of coming out." it's a beautiful, moving and seemingly effortless piece of filmmaking. we presented a series of ideas for the poster and the one you see here is the one alexandra went with.
you can watch the film here.